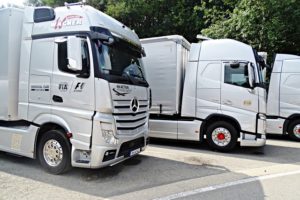 A truck fleet insurance policy covers all vehicles in a company's operation. Some trucking companies need to own and operate at least a few vehicles for their business to run. This policy will cover all of them and will be useful if an accident occurs that can include one or more of the company's vehicles because it doesn't just provide coverage for only one truck but for the company's entire fleet of trucks.
Buying this type insurance policy is an important decision for business owners with more then one truck because it is not necessary to purchase a separate policy for each vehicle anymore. A Fleet policy is often more expensive than a single truck policy but if an accident occurs with more than one vehicle, the policy will cover all of the vehicles in the fleet.
How Truck Fleet Insurance Works
This type of policy protects the capital assets in a business. It can help reduce admin costs, and keep employees and customers safe. By taking out one policy for a business, a company can receive substantial discounts. The policy will cover the entire fleet of vehicles, saving both time and money. However, one should be aware that the premium for a fleet insurance policy will depend on the number of vehicles and the type of coverage needed. The number of drivers can vary greatly, so make sure to carefully choose the policy that best suits your needs.
A fleet insurance policy can be set up as a Named Driver policy or as an Any Driver policy. Regardless of who drives the vehicles, a fleet insurance policy covers the costs of repairing the vehicles in case of an accident. By choosing a fleet insurance policy, the insured business will save money.
How To Choose A Fleet Policy
There are a number of benefits to having fleet insurance and there are several different types of fleet insurance plans. Some are geared towards large businesses, while others are aimed at small companies. A policy can be taylored for smaller businesses or can be designed for owner-operators with more then one truck. It covers commercial auto's while avoiding the drivers risk of liability. Speaking to your insurance professional will help you in making the right choice based on what your company needs.
What A Fleet Policy Covers
Truck policies have changed a lot over the last few years. In the past, there were only 3 types of truck policies:
– "Basic" coverage for low-value vehicles (less than $100,000).
– "Minor" coverage for vehicles in excess of $100,000.
– "Major" coverage for vehicles in excess of $250,000.
But now there are several types of policies, all with different levels of coverage and different rates. You will also find that some companies offer coverage for trailers and other equipment, while others don't. This can be very confusing, and the last thing you want is to buy a policy that doesn't cover the things you need.
A fleet insurance policy covers a number of different types of vehicles. This policy covers the vehicles that are owned by the company. Some of the most popular policies cover all types of vehicles. A large company may have several vehicles that require several policies, which can be expensive. This is the most cost-effective option for a small business. With a fleet, the insurance policy is customized to fit the needs of the business, it protects the assets of the business.
How To Get An Insurance Quote
Cost is usually less to pay annual premiums rather then monthly payments, but since a business is more likely to have multiple vehicles your budget may determine the type of payment you can afford. There are 2 ways to get a truck fleet insurance quote. You can call the office at 1-888-849-7273 or fill out our online quote form.